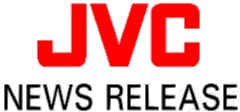 Agency contact:
Deirdre Breakenridge
PFS Marketwyse
(973)812-8883
dbreakenridge@pfsmarketwyse.com
JVC contact:
David N. Walton
JVC PROFESSIONAL PRODUCTS COMPANY
1700 Valley Road
Wayne, NJ 07470
(973) 317-5000
(973) 317-5030 (fax)

FOR IMMEDIATE RELEASE:
JVC'S NEW DIGITAL AUDIO GUIDE SYSTEM
IS INSTANT SUCCESS AT KENNEDY SPACE CENTER VISTOR COMPLEX
One-of-a-Kind Audio Guide with Capacity to Translate Up to 9 Languages;
96MB Flash Memory Card Attains 24 hours of Continuous Play
KENNEDY SPACE CENTER, FL. (September 24, 1999) – JVC PROFESSIONAL PRODUCTS COMPANY has announced the installation of a unique digital infrared Audio Guide system at Kennedy Space Center Visitor Complex.
The Audio Guide system, designed and developed by JVC, consists of a battery-operated cellphone-sized device and attached earpiece that digitally stores and plays voice-recorded information (including technical information, historical facts and anecdotal stories) in up to nine languages. This revolutionary new system takes the place of bulky headphones and pre-recorded taped materials and for the first time ever enables non-English speaking guests to fully understand and enjoy tours of museums, art galleries, zoos, aquariums, historical places and theme parks at their own pace.
The installation of Audio Guides at the Kennedy Space Center Visitor Complex (KSC-VC) enables the world-renown tourist destination to provide its guests, approximately 40% of whom are international, a more richly detailed and fulfilling experience. In its first weeks of availability, the JVC Audio Guides have sold out regularly, stimulating KSC-VC to consider ordering more of the units and plan for the development of more audio tour modules.
Using JVC's Audio Guides
Visitors to the Kennedy Space Center Visitor Complex are helpfully directed by staff and signs to the main reception desk where they can rent Audio Guides for $5 a day. Visitors may currently choose one of seven languages, including English, French, Spanish, Portuguese, German, Italian and Japanese, (with a future capacity of up to nine languages) for their personal audio tour. Friendly staff program the units to play in the selected language, and instruct guests on how to use special features. All Audio Guide units are provided fully-charged, encased in a leather pouch, with an attached lanyard which allows the unit to be worn like a necklace -- allowing hands-free enjoyment of the complex. Before venturing into the park, each visitor also gets a pamphlet on using the devices as well as a map showing locations of Audio Guides tour.
At Kennedy Space Center Visitor Complex dual modes (visitor-controlled and automatic) virtually let guests design their own tours. Visitors simply view what they like best and key in the corresponding code for particular exhibits. At larger exhibits like Robot Scouts and Universe Theater, the Audio Guides are automatically activated by JVC's unique infrared transmission system.
With JVC Audio Guides, guests can progress at their own pace, learning about destinations and exhibits in any order. The Audio Guides offer anecdotes and in-depth information on each attraction as well as helpful hints on how guests may better plan their day to ensure that they take full advantage of all that Kennedy Space Center Visitor Complex has to offer.
The basic unit, JVC's handheld portable ROM player (XA-GP1BK), is both fun to use and lightweight, weighing less than the average cellular phone. Big buttons and super-large LCD display make for easy operation regardless of age. Visitors who are hard of hearing or who are not proficient in the language they've selected can take advantage of the units' "slow-speed" audio playback that allows playback speed to be lowered to 75% of the normal speed with one-touch operation. An over-the-ear earpiece lets guests instantly and discreetly hear information in their selected language.
A large-capacity lithium battery built into the portable ROM player ensures that the handheld unit stays charged for a full day of touring. Up to 1,000 messages can be recorded on the memory card and the number of times each message is played back can be counted, giving the Kennedy Space Center and other facilities a built-in measuring device for evaluating visitor interest in particular exhibits.
Kennedy Space Center Visitor Complex, ranked as one of the most popular Florida attractions, hosted more than 2.7 million attendees last year. It is the first Travel/Tourism facility nationwide to offer JVC's in-depth self-guided digital audio tour.
JVC's Audio Guide system was selected by Kennedy Space Center Visitor Complex as part of a park-wide transformation which was termed "a grand move toward revolutionizing the modern theme park experience," by Rick Abramson, president and chief operating officer for Delaware North Parks Services of Spaceport Inc., Kennedy Space Center Visitor Complex. The first phases of installations have taken place at the main Visitor Complex, the International Space Center, and Launch Complex 39 Observation Gantry for use in various exhibits and theaters.
Rick Abramson applauded the adoption of JVC's Audio Guidance System saying, "Our strong partnership with JVC over the past years has helped us to provide our guests a one-of-a-kind experience that is rich with historical and futuristic technological firsts. We've seen firsthand how effortless the system is to use, how much more meaningful and intense the experience has been for foreign-language speaking guests, and how valuable a tool this is. At Kennedy Space Center Visitor Complex, JVC's Audio Guides are already a proven winner."

Scott Watson, JVC vice president, praised the Audio Guide system saying, "Our installation at Kennedy Space Center Visitor Complex is everything we'd hoped it would be, and more. JVC is very pleased that guests of the Kennedy Space Center Visitor Complex are able to enjoy our nation's astonishing space achievements more fully with this new innovative product from JVC. We're thrilled to be a partner with the Kennedy Space Center Visitor Complex and proud of our part in bringing America's history of space exploration to life for millions of visitors around the world."
System Configuration
JVC's Audio Guide system is comprised of a portable ROM player (XA-GP1BK), a flash memory card, an earphone, an infrared address transmitter (XA-GT1TN) and a charger (XA-GC20BK). The charger remains at the reception counter while guests take the portable ROM players with them throughout the day. Infrared address transmitters are positioned on certain exhibits on the ceiling or wall near the entrance for the auto start system.
JVC's Infrared Tranmission System
Audio Guides can be activated three different ways: visitor-controlled, manual pointing system, and auto start. In the first way, the visitor keys in the pre-assigned number of the exhibit to hear the related text. This method of installation is easier and least expensive for facilities to install since it requires the least wiring. The second way is the manual pointing system, in which the visitor simply hits the play button and the device decodes infrared signals to receive transmitted data. The third way also uses infrared transmission and is called the auto start system. In this case, voice-recorded text is automatically triggered to playback when the visitor passes a checkpoint (like at the entrance of the exhibit) or approaches a sensor (mounted on the wall or ceiling).
Product Specifications
XA-GP1BK portable ROM player

The handheld ROM player has a built-in lithium ion rechargeable battery and when equipped with an optional 96 MB Flash Memory card offers 24 hours of continuous audio playback in LP mode. Pocketsized and lightweight, the unit measures 2-5/6" x 5-5/8" x 15/16" (58.6 x 141.4 x 23.5 mm) and weighs 156 grams (including battery).

XA-GT1TN infrared address transmitter

JVC's transmission system uses a proprietary code for infrared transmission of data. The unit is compact measuring just 4-3/4" x 2-5/8" x 1-1/8" (120.5 x 66.0 x 28.0 mm) and weighing 110 grams. Power is supplied via an AC adapter. The units have a wide reception area with horizontal directivity ranging from ± 20 degrees for auto setting and ± 45 degrees for point setting. Vertical directivity is about ± 20 degrees.

XA-GC20BK charger

The Audio Guides charging unit is compactly sized (18-13/16" x 5-7/16" x 17/14" (477 x 138 x 438 mm)) giving facility designers the option of either tucking it unobtrusively away in a drawer and or mounting the attractively styled unit on a countertop.
Kennedy Space Center Visitor Complex
Kennedy Space Center Visitor Complex draws more than 2.75 million visitors a year and is open from 9 a.m. to dusk every day except December 25 and certain launch days. For the guest who wants to maximize his experience, a Maximum Access Badge includes the Kennedy Space Center tour; two new exhibits, Robot Scouts and Quest for Life; and two IMAX films. Purchase price is $26 for adults and $20 for children age 3-11. A Standard
Access Badge, which includes the Kennedy Space Center tour; two new exhibits, Robot Scouts and Quest for Life; and one IMAX film, is available for $19 for adults and $15 for children age 3-11. The Kennedy Space Center Visitor Complex is located 45 minutes east of Orlando, Fla. For more information, call 407/452-2121. www.KennedySpaceCenter.com
JVC
JVC is a global leader in the development and manufacturing of professional and consumer electronics products.
JVC PROFESSIONAL PRODUCTS COMPANY is based in Wayne, New Jersey, and distributes a complete line of broadcasting and professional equipment including cameras, recorders, monitors, projectors and editing products. For more information about JVC's Audio Guide system or other products, contact David Walton at 1 (800) JVC-5825 or visit the website at www.jvc.com/pro/audioguide.
###