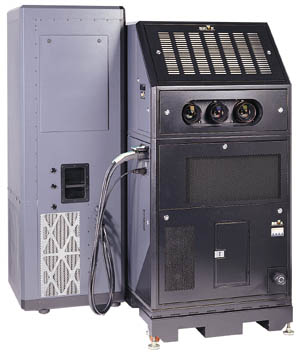 ILA-12K Projector
They Said It Couldn't Be Done...
True Electronic Cinema
The Best Picture in The World.



Here it is . . . the new projector that takes brightness to a completely different level!
The amazing ILA-12K delivers an unprecedented 12,000 lumens of light output that leaves all other large screen projectors far behind.Brightness isn't the only story. The ILA-12K also produces a contrast ratio of 1000:1 and bandwidth of 150 MHz. And it's compatible with a wide range of sources including the new 1920 x 1080 HDTV standard, high resolution graphics to 90 kHz, and NTSC and PAL video. You won't believe your eyes in even the most demanding applications, including Cinema Screening Rooms, Outdoor Displays, Theme Parks, Arenas, Auditoriums and Entertainment Events. The ILA-12K is part of the complete product line of high-performance, ultra-bright Image Light Amplifier projectors. ILAŽ technology helps all Hughes-JVC models deliver an unparalleled combination of color, contrast, brightness, resolution and bandwidth for the most incredible large screen image in the industry.



Brightness
12,000 Center Full White Lumens/
10,000 ANSI Lumens
Super Contrast
Greater than 1,000:1
RGB Bandwidth
150 MHz (Measured at -3dB)
Horizontal Frequency
15-90 kHz
Vertical Frequency
45-120 Hz
Aspect Ratio
4:3, and 16:9 (variable)
Source Compatibility (HxV)
2,500 x 1,340
Graphics Resolution (HxV)
2,000 x 1,280
Video Resolution
1,500 TV Lines (4:3)
Inputs
2 RGBHV (Decoder optional)
Convergence
Digital with 30 memories/channels
Light Modulator
3 Proprietary Image Light Amplifiers
Power
208 VAC, 60A, 3ø, 60Hz
Light Source
7,000 Watt Xenon Arc Lamp
Lens Options
Fixed: 0.885:1, 1.5:1, 3:1, 5:1, 7:1, 10:1
(Throw Screen Width)
Throw Distance
6'-360'
Screen Size
4' - 60' wide
Size (HxWxL)
72.5" x 56.0" x 58.0"
Weight
1670 lbs

Brightness and contrast measured at 1024 x 768, 90Hz, 5600°K. Specifications subject to change without notice.