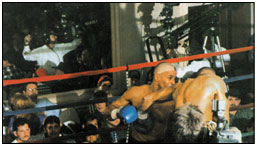 Proving once again that wedding videographers can reproduce broadcast television, WEVA International member, Rudy Childs of Spero's video (Riverdale, MD) has scored a knockout on the Home Team Sports channel. Directing five cameras at ringside, Childs produces a Friday night boxing program that is beamed to the 10 million subscribers of the Fox Sports affiliate, HTS.
"Ballroom Boxing" is the brainchild of Scott Wagner, owner of Michael's 8th Avenue Ballroom in Baltimore, MD. On Friday nights, Wagner converts the banquet ballroom into a boxing arena, complete with a professional ring, top-notch boxers and shapely women who carry the signs in the ring between rounds. Childs and his crew (comprised mostly of WEVA members) assemble scaffolds, attach lights to the ceiling, run cables and set up instant-replay monitors, intercoms, cameras and even a camera crane.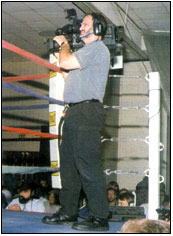 While "Ballroom Boxing" may conjure up images of boxers in tuxedos, it's simply a catchy name for the professional boxing bouts set up in this Baltimore ballroom-probably the only boxing venue where fans sit under cut-glass chandeliers.
Wagner brings in big-name fighters and has secured sponsorship from heavyweights like Budweiser, Toyota, and Geico. He hires professional announcers and books the airtime. He plays Childs and his crew, but readily admits that he is getting a great deal for the level of expertise of the crew and the sophistication of the equipment Childs brings with him.
Broadcast Cameras and Switchers
Childs shoots these events with high-end JVC DY-90 cameras, and records on a JVC BR-D750 Digital-S deck. He live-switches four cameras with his Sony SEG 2000 and uses a fifth camera hand-held. All of the cameras simultaneously record on his old Panasonic AG-1960 S-VHS VCRs for instant replays. When the commentators want a replay of any of the camera angles, the camera operator removes the tape from the 1960 and plays it on a JVC 525 slo-mo deck connected to a 27-inch monitor. Childs thought that his roving ring-camera operator would be in the way of the fans seated behind him, so he intentionally placed his large monitor near that camera position, and the fans love it for the replays.
For crane shots, Childs uses an EZ FX Jib he purchased at WEVA EXPO '98 for $1,500. He bought his Digital-S deck at a previous WEVA EXPO, and Childs says that JVC now displays some of his boxing footage in their booth during trade shows.
Childs has an intercom system to communicate with the announcers and has a ringside mike and an audio compressor feeding his Mackie VX 1602 mixer. The boxing shows are taped for later broadcast. Childs said he spends about 20-25 hours in post using Play's Trinity, and mastering onto JVC Digital-S.
Getting Started in Sports Events
This network production gig didn't just fall into Child's lap. A sports enthusiast, he started taping boxing matches for public access cable in 1990. On a volunteer basis he produced "Boxing Spotlight" with a single camera. He was able to secure a premiere Friday night time slot and won cable TV awards in the "Best Sports" category five years in a row. Childs gradually added more equipment to his arsenal and hired a professional announcer. In 1996, Wagner saw his show and was impressed. Wagner had been using another cable channel's in-house producers, and he found Childs' work far superior to that of his old crew.
In those early years, Wagner had only one sponsor-Toyota. With Childs as his videographer more viewers tuned in, and Wagner was able to secure additional advertisers. Now the show is produced with a crew of 12 videographers and is broadcast in eight states in the eastern United States. Florida's Sunshine Network recently picked up the show and airs it to five million homes there. It can also be seen on PrimeStar, Direct TV and Echo Star. Wagner has plans to take this program nationwide before long.
Production Costs and Challenges
Each of these shows costs about $8,000 in production costs. This does not include lighting, ring set-up, and two large-screen projection systems. Childs had developed a switching system that was mobile enough for live-switched weddings and found it had enough equipment and power to handle broadcast tasks.
He built cable snakes and permanently installed some redundant wire feeds in the walls and ceilings of the ballroom, an installation job that continues to save the crew valuable set-up and take-down time.
Handling time code was another challenge. Childs created a time code system that would work together with the DY-90 cameras and the mastering decks. Childs said that, "when the snakes were built, we didn't have an extra cable run for time code, and we had to incorporate an extra wire to accommodate this particular need. We also had to split the time code signal through a distribution amp to feed all the replay decks and all five cameras."
Wagner is delighted with Childs' crew and with the video quality. "There isn't a guy in the country doing what Rudy is doing. He's done an amazing job." Wagner says that Childs continues to invest in more equipment and every show just gets better. Childs also manages the ballroom's website, www.ballrooomboxing.com, which promotes both the boxing shows and the ballroom for parties and weddings. Sometimes Childs has a wedding to tape the following night at the ballroom. He usually leaves some cables and lights on-site, as the ballroom is transformed back to a wedding setting. Childs quips he "makes sure they clean up all the blood before the wedding starts."
© 2000 Wedding & Event Videography Magazine, Republished with permission. Wedding & Event Videography Magazine is the official publication of the Wedding & Event Videographers Association International (WEVA). Visit the WEVA website at www.weva.com.