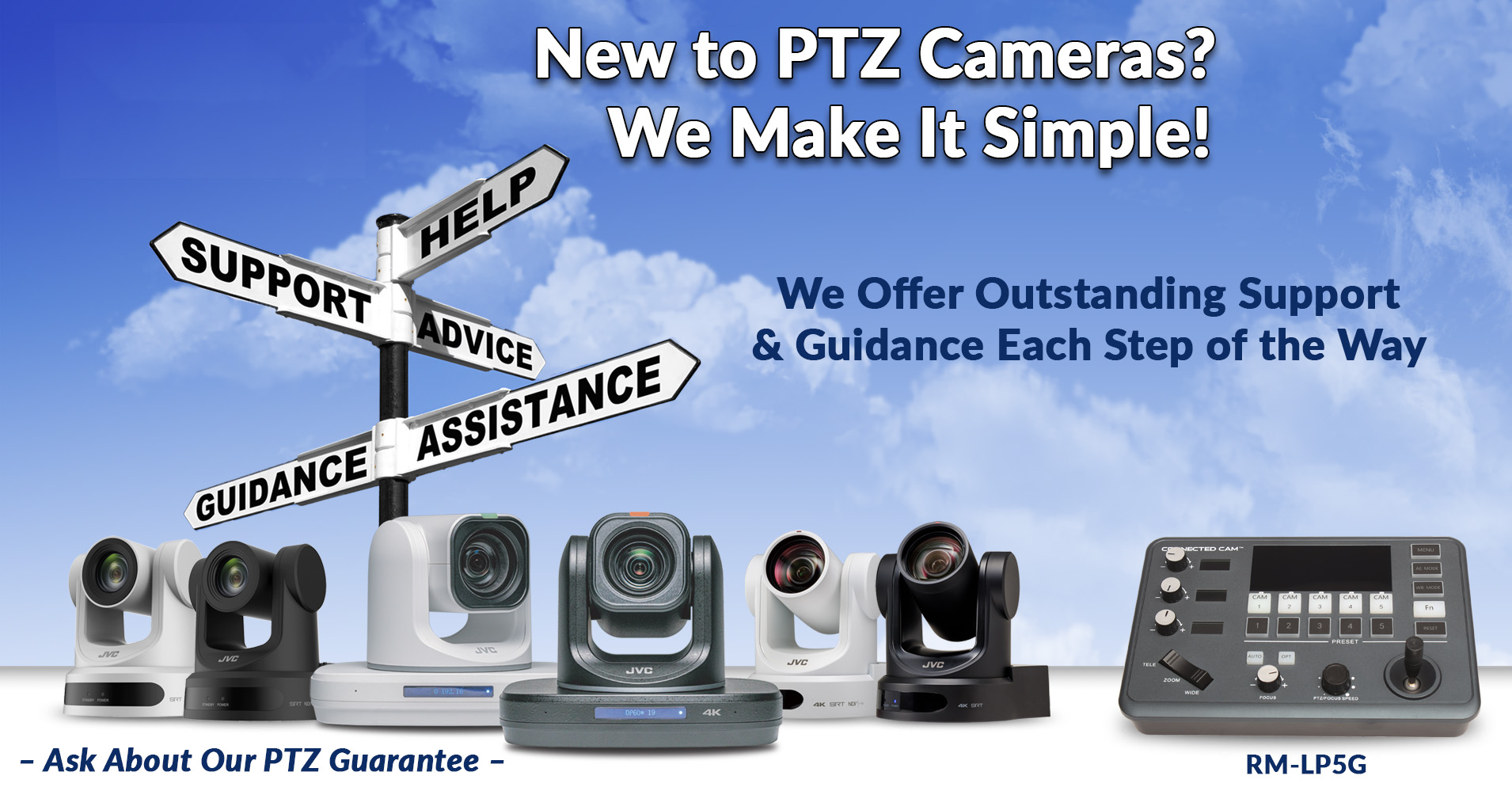 No More Excuses… Now is the time to take your next step with JVC's award winning PTZ Cameras and complete your Remote Production Solutions!
We will guide you each step of the way and show you just how simple it is to join the growing trend of PTZ Cameras
Purchase 2 CONNECTED CAM™ PTZ Cameras and receive the
New RM-LP5G CONNECTED CAM™ PTZ Joystick Controller for only $300!!
Only $300 with purchase!

RM-LP5G CONNECTED CAM™ PTZ Joystick Controller:
The RM-LP5G CONNECTED CAM Compact Joystick PTZ Controller features a dual-axis joystick and zoom bridge, capable of managing up to five PTZ cameras. This compact solution supports VISCA, UDP and PELCO P/D control protocols over IP, RS422 and RS232. Additionally, the controller's four-color LED multiscreen display affords ease of setup and operation. Available only as part of a bundled package with two or more JVC PTZ cameras, the controller is perfect for smaller market organizations looking to provide network-caliber productions.



KY-PZ510 Series PTZ:
These NDI®-compatible cameras feature advanced streaming capabilities, new SMART auto-tracking function and incredible field of view that's perfect for any application. These cameras include the ability to utilize NDI HX3 for the highest quality video with reduced latency at a fraction of the bandwidth of full NDI®. This enables integrators to take advantage of the KY-PZ510N's award-winning features, such as its super-wide horizontal angle of view (80 degrees) and focal length of 21.8 to 261.8 millimeters. Learn more about the award-winning KY-PZ510 Series PTZ Cameras. Interested in our PTZ promotions?

View our full line of PTZ cameras to determine a fit that works best for your needs.

PTZ Guarantee:
Our PTZ guarantee makes your decision simple with our outstanding support, service and PTZ Worry-Free Guarantee. It is no wonder we are so respected in the industry!
At JVC, support of our new PTZ cameras is the highest priority. That's why we created the "Peace of Mind" program and have assigned our most experienced support members to it. Whether you have questions about the camera or workflow, our team of remote production experts will be there to guide you.
There is a reason JVC has been in the electronics and broadcasting industry for over 95 years.
Our customers know the quality and service that are behind each product we sell.
And now at an incredible bundle price there really is no better choice. Remember with JVC it is the quality you expected at the price you didn't!
Grows with Your Needs:
Interested in expanding your existing platform? JVC's new KM-HD6 CONNECTED CAM Six-Input Hardware Switcher, and our dual award-winning KM-IP8 or KM-IP8S4 CONNECTED CAM vMix Studio Switchers, and the RM-LP350G CONNECTED CAM vMix Control Surface are all available to complete your Remote Product Solution.
Now is a perfect time to join the JVC product line! See our current PTZ Promotions!
For more information on pricing, configuration and promotions, please visit: JVC Professional Request for Quote.
JVC reserves the right to cancel or change this promotion at any time.
All product and company names are trademarks or registered trademarks of their respective owners.