The GY-HM200SP produces real-time score overlays on recorded and streamed video for most popular sporting events including baseball, football, basketball, soccer, volleyball, hockey and more. The overlay is produced for both streamed and recorded video simultaneously.
Full Screen Overlays and Slide Shows (New feature coming August 1, 2017)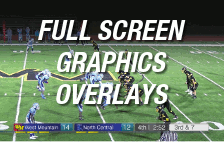 Add up to 50 full screen custom graphics (PNG or JPG format) from an SD card and store them in the camera for live streaming or recording. Graphics may be advanced manually or presented as a looping slideshow with timing 1-99 seconds per slide. This new feature allows users to create advertising to run as banners during the game, or full screen at halftime. Introduce the team members with a slideshow of players' photos and position.
Visit the GY-HM200SP web page.
Rebate Details:This rebate applies to new purchases of the GY-HM200SP sports production camcorder between June 1, 2017 and September 30, 2017. At the time of purchase your dealer will deduct $300 from the price. There are no forms to fill out! There's no waiting! Your only obligation as the buyer is to ensure your dealer is an authorized and participating U.S. JVC reseller. The GYHM200SCOREBOT camera package does not qualify for this promotion.