Product Details
Sales & Support
Documentation & Visuals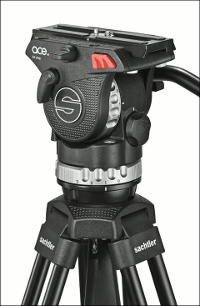 Best-in-class performance and a premium broadcast feel at a price you can afford. The Ace-M combines legendary Sachtler reliability with precision German engineering to create an affordable, high-quality professional fluid head and tripod that makes you look every bit as good as your work.
Compact and lightweight with smooth, intuitive operation, it offers outstanding balance, accuracy and control — giving you all the confidence, flexibility and support you need to produce that defining image. The Ace-M is ideally suited for JVC's GY-HM150U camcorder. With a payload range of 0 to 4 kilograms (0 to 8.8 lbs), a 5-step counterbalance and the new patented SA-drag™, the new Ace-M tripod system enables a genuine Sachtler broadcast feel.
Due to its lightweight and compact design it is the perfect companion for work on the go whether you are working on low-budget documentaries, electronic news-gathering (ENG), weddings events and training videos or a secondary unit.
The SA-drag™ system has three horizontal and three vertical steps. Sachtler uses three capsuled damping modules allowing you to choose a drag setting that suits any shooting situation — from a very tight control with lots of resistance to a very loose control with virtually no resistance at all. This technique gives, for the first time at this price point, a constant and repeatable drag that professionals need and have always relied on.
The 5-step counterbalance capability ensures easy balancing and optimum positioning of the camera.
Main features:
New patented SA-drag™ mechanism (Synchronised Actuated Drag)
Long sliding range of camera plate
Parking position for spare camera screws (1/4" and 3/8")
Lightweight aluminium mid-spreader tripod
Fibreglass reinforced composite fluid head
Scale on camera platform