Product Details
Sales & Support
Documentation & Visuals
FS-900 MULTIDYNE® CAMERA MODULE
The FS-900 is a new camera mounted Fiber optic system designed for JVC's GY-HM890 and GY-HC900 camcorders. Built exclusively for JVC by MultiDyne® Video & Fiber-Optic Systems, the system supports 3G-SDI 1080p/60 camera feeds and returns, and takes advantage of the camera's built-in streaming engine for video-over-IP functionality.
The camera module connects directly to the back of the camcorder via 68-pin interface—no external cables required—for full studio functionality. It transports multiple bi-directional 3G-SDI signals as well as control, audio, sync, and intercom between the camera and the FS-900 Base Station.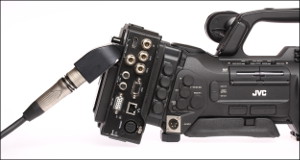 The camera module is available in 2 configurations:
FS-900CAM1N (Neutrik Opticalcon connector)
FS-900CAM1S (SMPTE connector)
Up to three cameras are supported by the Base Station, and its redundant power supplies provide up to 150 watts for each camera, as well as prompters and talent monitors. Its three-in-one configuration provides a more cost efficient solution than other multi-camera solutions previously offered by JVC and other manufacturers.
With built-in gigabit Ethernet, the lightweight, 2 RU Base Station also allows video-over-IP, control and advanced configuration. The high quality 1080p video signals are ideal for webcasts, virtual sets, and image magnification (I-MAG) applications. The system integrates easily with any studio, mobile truck, or portable flypack, and connects directly with a facility's switcher, router, intercom, and house sync systems.
KEY FEATURES
Cost-efficient three-camera studio configuration with single base station.
Supports 1080 50/60p 3G-SDI camera feed and returns.
Camera adapter design allows to use VF-HP790 or generic SDI monitors as studio VF.
HDMI / SDI feeds for high-quality HD teleprompters.
Gigabit Ethernet for Video-over-IP and web-based RCU.
Dual redundant power supplies.