Product Details
Sales & Support
Documentation & Visuals

The GY-DV300REM is a powerful new member of JVC's expanding lineup of handheld camcorders. In addition to all the performance and features of the
GY-DV300U
, the GY-DV300REM is an enhanced version that provides remote iris, zoom and focus as well as remote camera parameter adjustment capability. This new model is fully compatible with the Varizoom "VZ-300" as well as JVC's own Pan/Tilt system.
The new remote control capability is made possible by special firmware within the camera head, and a remote adapter plate that snaps onto the bottom of the camera. (The camera can also be used with the optional KA-DV300U network adapter, but not simultaneously with the remote adapter plate.)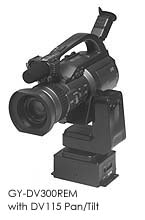 Features common to the GY-DV300U:
Manually controllable 14:1 power zoom lens
1/3" 3-CCD pickup with spatial offset for superb imaging
Advanced 12-bit digital A/D
24 bit digital signal processing (DSP)
Professional color matrix w/adjustable gamma
700 TV Line resolution
Excellent low light performance (2.65 lux)
Maintains proper black level by correctly handling 7.5 IRE set-up
High-quality PCM audio (even at 110 dB SPL)
Professional DV digital recording (with MiniDV cassette)
Record directly to memory card (w/optional KA-DV300U)
Built-in web server for setup and control
Equipped with DV (i.LINK) IEEE-1394 connector
Optical image stabilizer
0.5" color LCD viewfinder
XLR microphone inputs
4:3 to 16:9 (letterbox) switchable
115dB Smear rejection
Output MPEG-4 web streaming (w/optional KA-DV300U)
Features unique to the GY-DV300REM:
Iris Zoom & Focus remote control
Comprehensive camera control (bars, gain, white bal , full auto & shutter)
The GY-DV300REM is the only camcorder of its type that can properly adjust iris, zoom and focus to remote presets.