Product Details
Sales & Support
Documentation & Visuals
Lens control includes focus, zoom and iris. Additionally, the DV180 can control the start and stop VTR controls on the camcorder.
Sixteen presets per camcorder may be selected from the DV180. The digital design of the DV180 allows custom controls to be included for unique customer requirements. These control functions may be activated via the 2 auxiliary switches located on the front panel.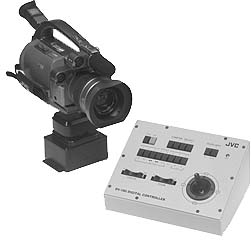 The pan and tilt control is provided by a proportional deflection joystick. Control of the zoom and focus is accomplished with proportional deflection "Seesaw" controls. The proportional controls allow a slow movement when the control is only slightly depressed and a much faster response when the control is more fully depressed.
An externally accessible DIP switch at the rear of the unit allows pan, tilt, and lens control reversal. In addition, Options such as iris control or control of more than 4 remote camera sites may easily be implemented.
The DV180's table top design features a sloped front panel for ready access to all of the unit's controls.
Four RS-422 connectors are located on the rear of the unit to interface to each of the 4 remote camera sites. A 9 Pin D connector located on the rear of the DV180 provides the RS-232 serial interface for computer input/output. Input power to the DV180 is provided by a wall mounted power supply which is provided with the unit.

The DV180 can provide pan & tilt and lens control for up to 4 remote GY-DV300REM camcorders using the DV115 pan tilt head.