Product Details
Sales & Support
Documentation & Visuals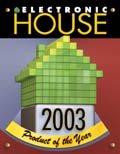 NEW UPGRADED MODEL WITH HDCP AND ENHANCED LIFETIME OPTICAL BLOCK!
High resolution. Natural color reproduction. Home Theater is better than ever.
When it comes to video resolution, more pixels means a clearer image. JVC's DLA SX-21 projects an incredible 4.5 million pixels that converge onto your screen to produce the most stunning, most accurate and highest resolution images possible. It's all due to JVC's exclusive D-ILA chip technology, found in projectors that Hollywood executives use for screening and critical color analysis. The SX-21's three D-ILA chips pump out rich color and high contrast without the "screen door" and rainbow effects that plague other projectors. The DLA-SX21 delivers clarity and high resolution that was previously available only for the highest end, professional theaters. This clarity and high resolution can now be the foundation for your state-of-the-art home theater. The SX21 is a lot more than you'd expect from a home theatre projector, but everything you'd expect from JVC.
True SXGA plus (1400 x 1050)
H/V digital keystone correction
DVI-D Plug and Play with HDCP!
JVC original DIST (Digital Image Scaling Technology)
JVC color processor (Color Management System)
720p, 1080i, 1080/24sF, HDTV format compatibility
High contrast of 800:1
Easy lamp change through side of projector
Enhanced Lifetime Optical Block assembly
Easy installation
Compact, portable design