Despite its modest price tag, DT-V24L1U features the same robust design and performance as JVC's highly acclaimed DT-V24L1DU studio monitor. This version does not include HD-SDI, but provides full digital connectivity through a lossless DVI-D interface, making it suitable for a wide range of studio and computer monitoring applications. The DT-V24L1U features true native pixel-to-pixel 1080p image display. Superior scaling and de-interlacing, 10-bit 1080p processing combined with traditional rotary image controls, area markers and blue check make the DT-V24L1U the undisputed best value in critical monitoring applications.
Native 1920 x 1080 resolution 16:9 Flat Studio Monitor
Component HD input accepts 720p, 1080i/1080/24psf signals
DVI-D (HDMI compatible) interface
1:1 Scaling Mode for pixel-to-pixel 720p display
Rotary adjustment knobs
External sync input
RS-232C and RS-485 remote control
MAKE trigger control (input selection)
Supports wide range of HD and computer scan rates
Click for list.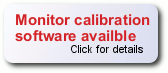 Users who require HD-SDI connections may use an external HD-SDI converter such as the nanoView™, or should consider JVC's DT-V24L1DU.
Click to compare differences between JVC DT-V Studio Monitor Series.