Product Details
Sales & Support
Documentation & Visuals
Main Features:

HD resolution — 1680 x 945 images
Wide SXGA, 16:10 pixel array 1680 x 1050 with built-in UMD
HD signal inputs: DVI-D, Component & RGB
Accepts 1080/24psf signals
High performance LCD panel produces crystal-clear images with faithful color reproduction from all directions
IP conversion mode can be selected from NORMAL MODE (frame complement and vertical filter), FIELD (field complement) and CINEMA (for 24p)
4-way remote control system: Contact, pulse trigger, RS-485 (via RJ-45) x 2 and RS-232
Supports wide range of HD and computer scan rates
Click for list.
Additional Features:
Metal rear cabinet provides excellent radiation performance and rugged durability
Compact square, all-in-one design. Dual-role stand included
Front rotary digital controls with analog look & feel
VESA 100 mounting holes. Built-in protection of rear connections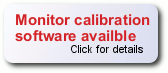 Users who require HD-SDI connections may use an external HD-SDI converter such as the nanoView™, or should consider JVC's DT-V20L1DU.
Click to compare differences between JVC DT-V Studio Monitor Series.