Product Details
Sales & Support
Documentation & Visuals
The KA-HD300U Studio Camera Adapter offers the same basic features and functionality as the KA-HD250U Studio Adapter (sled) except that it is designed for hand supported, shoulder, crane & jib operation. Once attached to the GY-HD250 camera (with V-Plate adapter), the KA-HD300U provides the necessary signals (power, genlock, intercom, tally, camera control, and return video) to and from the RM-HP250AU (or RM-P210U*) camera control unit. It utilizes standard JVC or Sony multicore cable and connectors, and can be added to an existing SD or HD system with no additional cabling.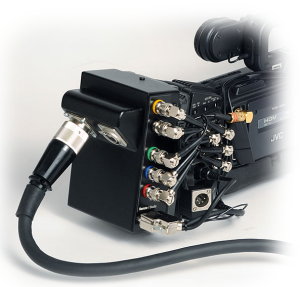 Simultaneous analog and digital (HD-SDI) signal support with RM-HP250AU
Easy V-Mount click-on installation, small, compact, and lightweight
Intercom and Gen-lock functionality in SD and HD
Direct control of Iris, Black Level and other camera parameters from the CCU
Return Video Support via KA-R25U Adapter
Extra 12 V power output for additional camera peripherals
Supports 26-pin multi-core cable over distances of up to 100m
Compatible with the RM-HP250AU and RM-P210U*
The KA-HD300U is sold by JVC U.S.A. packaged (as KAHD300UPKG) with the KA-R25U Return Video Adapter, and the JVC-PV V-Mount adapter plate.
*Not all features are available when using the RM-P210U Camera Control Unit