Product Details
Sales & Support
Documentation & Visuals
The For-A HVS-300HS is a compact 1RU switcher,ideal for use in flight packs, mobiles or small production facilities. This switcher has been custom-configured to JVC's specifications.
Standard HD/SD-SDI 4 input/4 output (PGM x 2, AUX x 2)
Includes DVI/PC Output for connection to personal computer
10-bit processor for broadcast-quality 4:2:2:4
A frame synchronizer and re-sizing engine for each input that accepts non-synchronized as well as SD/HD simultaneous inputs without external devices
Built-in 16-split multi-viewer (4/10/16 multi-view, tally, title, etc.)
Two channels of picture-in-picture
1 keyer (including Chroma Key) and 1 DSK, each with its own 2D DVE
Various 2D and 3D DVE transitions

Cut, mix
Over 100 wipe patterns, plus 56 2D/3D-DVE Wipe patterns
Separate transitions for the keyers and picture in picture functions

2 dedicated still stores for captured images, or images uploaded (Jpeg and Targa) via the USB port.
Independent process control for each input
Operation unit has traditional control panel with large, standard bus buttons, fader.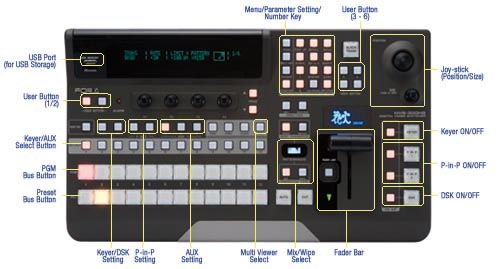 This model is manufactured, warranted and supported by FOR-A America and distributed by JVC. To obtain service or further information, please contact:
FOR-A Technical Support
11125 Knott Avenue, Suite #A
Cypress, CA 90630, USA.
Tel: +1-714-894-3311 Fax: +1-714-894-5399
Email: info@for-a.com