Product Details
Sales & Support
Documentation & Visuals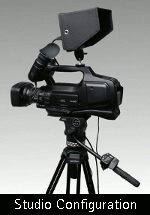 Capture every stunning detail with this advanced Full HD shoulder supported 1080/60p camcorder. The GY-HM70 is equipped with a high quality 29.5mm wide-angle GT lens that offers smooth 16x dynamic zoom performance*. The camera records on two SDHC or SDXC memory cards in the AVCHD Progressive format at 28Mbps. And its unique dual battery system keeps you recording for hours and hours since the batteries may be hot swapped during recording. Never before has this much performance been packed into an affordable, professional shoulder supported camcorder.
Full 1920 x 1080 capture and recording at 60P in the AVCHD Progressive format (28Mbps)
1/2.3-inch 12 megapixel CMOS imager
29.5mm wide angle autofocus zoom lens with 16x dynamic zoom*, 200x digital zoom
(35mm equivalent: 25.5mm — 476mm)
Manual focus, iris, shutter, white balance control
Optical image stabilizer
Stable, professional shoulder form factor
Records to dual SDHc/SDXC memory cards

1080/60P (28 Mbps)
1080/60i (24/17/12/5 Mbps)
720x480 (6/3 Mbps)

FALCONBRID™ High Speed Processor
High speed video recording (for slow motion)
300 fps (720 x 480 resolution)
3-inch Touch Screen LCD display
.24-inch LCOS Color Viewfinder
Focus assist function
Zebra indication (Over 100%/70-80%/OFF)
Auto iris/Manual iris adjustment
AE adjustment
Backlight compensation
Touch priority AE/AF
Face detection/Smile shot
Tele macro
Built-in zoom microphone
3.5mm Microphone Input
12MP digital still capture (JPEG format)
2MP still capture during recording
Unique dual snap-on battery system (1 provided)
3.5mm Remote Connector (compatible with HZ-M150VZR remote lens control unit)
3.5mm Headphone out connector
*By oversampling the HD (2MP) frame within the 12MP imager, smooth 16x dynamic zoom is achieved with the 10x optical lens. This is different that digital zoom which enlarges pixels (up to 200x) causing a loss of resolution.