Product Details
Sales & Support
Documentation & Visuals
ProHD
and
MN-MIMO
technologies to produce a next generation wireless camera solution that offers the user benefits far beyond other systems available in the marketplace.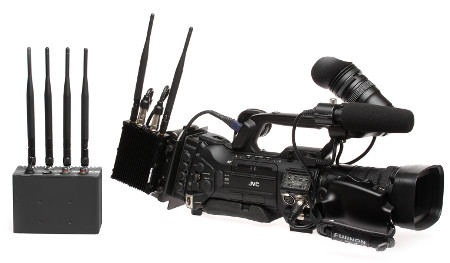 JVC's
ProHD and 4KCAM
streaming camcorders (including model #'s
GY-HM650
,
GY-HM-850
,
GY-HM890
,
GY-LS300CHU
and
GY-HM200U
) connect directly via USB to a camera mounted
SC3822 MN-MIMO
radio, to support professional quality video transmission at up to 12MBps, as well as remote camera control. The wideband bi-directional capability of the
MN-MIMO
mesh also enables optional features such as return video and IFB / Intercom.
The
"private mesh video network"
can operate in both unlicensed frequency bands and a broadcaster's own licensed channel frequencies.
Features / Benefits:
Highly cost effective with direct USB connection from camera to MN-MIMO radio eliminating the need for any external video encoding
Excellent video quality with streaming data rates up to 12MBps per camera
Non-Line-of-Sight coverage
Coverage area can be extended as needed by use of repeater radios
Operation in both licensed (BAS) and unlicensed frequency bands
Multiple cameras operational on the same frequency / mesh
Bi-directional wideband connectivity to support return video, IFB, tally, camera control / shading / painting and FTP
Applications:
Wireless camera to vehicle for onward relay via MN-MIMO mesh, satellite or bonded cellular systems
Wireless camera direct to a traditional fixed site such a tall downtown building or tower located at the news studio
Wireless camera to a temporary location with internet access such as a coffee shop or hotel balcony
Wireless camera roaming within an extended area covered by a network of mesh radios temporarily set up for event coverage such as parades or protests, sporting events, conventions and other local news events


To learn more,
check out our white paper.
JVC and Silvus Technologies have combined their best-in-class