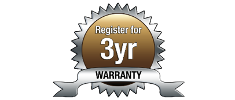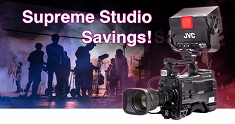 Product Details
Sales & Support
Documentation & Visuals

CONNECTED CAM™ OFFERS THE ULTIMATE IN STUDIO QUALITY AND CONNECTIVITY
NEW V4.2 Firmware upgrade is available with many new features now!
The GY-HC900ST is the studio version of our renowned 2/3-inch broadcast camcorder. With no compromise in image quality, it offers a level of connectivity not found in any other studio camera. It features three 2/3-inch CMOS image sensors that deliver high sensitivity, low noise and wide dynamic range. When combined with the FS-900 studio fiber system, it's the ideal choice for high-end studio and EFP applications. The camera head connects directly to the FS-900 fiber back module seamlessly via a 68-pin interface, and feeds 3G-SDI signals, control, audio, sync, and intercom to the base station.
The GY-HC900STU also offers an HDR mode for creative flexibility, as well as HLG, J-Log and up to 120fps 1080p slow-motion recording. The new platform enables simultaneous ISO recording, low latency streaming, and simultaneous decoding for return video and IFB for non-compromising studio applications. Latency can be as low as 500ms for both outgoing and incoming video. Its complete IP workflow includes streaming performance up to 20 Mbps, ZiXi™ error correction with automatic repeat request (ARQ) and SMPTE 2022 forward error correction for reliable transmission.
Important new features have been added to the GY-HC900 with the most recent firmware upgrade (v0300.) The camera now supports recording contribution quality ProRes HD422 files to SSD media via the optional KA-MC100 adapter. SSD recording can also be used in the backup mode. Live streaming is now much more efficient when using the HEVC/H.265 plug-in encoder (KA-EN200). High quality 4:2:2 10 bit streaming is now possible with H.265 at up to 24Mbps. Secure Reliable Transport (SRT) open streaming protocol is now available with this upgrade. And the camera now offers high quality broadcast graphic overlays, either lower third or full screen—a feature never before found on a 2/3-inch broadcast camera.
Click here to download the latest firmware for the GY-HC900.
MAIN FEATURES
Superb Camera
Three advanced 2/3-inch CMOS image sensors for high sensitivity:
F12 @ 60Hz
HDR (High Dynamic Range) (Hybrid Log Gamma)
Industry standard B4 lens mount
Signal-to-noise ratio 62dB (standard)
Dual SDXC media recording
ProRes HD422 10-bit recording to optional SSD (v0300)
50 Mbps 4:2:2 10-bit iso recording (H.264)
Standard MPEG-2 recording up to 35 Mbps
1080p slow motion recording (120fps)
Broadcast overlay graphics (v0300)
Records Sports Exchange Standard formats (1080/720p)
Backup recording to SSD (v0300)
Enhanced Connectivity
Direct connection (68p) to fiber module
3G-SDI (x2) outputs
3G-SDI input for pool feed
HDMI output
Ethernet LAN (RJ45)
USB host for network function
Time code IN/OUT
Genlock input
XLR audio input (x3) and output
DC Power out connection (x3)
Remote control (via direct connect or network)
Slot for wireless audio module
Slot for future expansion
Complete IP Workflow
Advanced low latency (<500 ms) streaming up to 20Mbps (H.264)
HEVC/H.265 streaming possible with optional KA-EN200 plug-in encoder (v0300)
Stream camera or pool feed signal
Zixi error correction with automatic repeat request (ARQ)
Secure Reliable Transport (SRT) protocol support (v0300)
SMPTE 2022 forward error correction
Remote control via web browser or RM-LP100
IFB audio
Return video (IP or SDI)
Progressive FTP for transfer of live video
Network Time Protocol (NTP) for time code synchronization (v0300)
EXTRORDINARY CAMERA PERFORMANCE
The heart of the GY-HC900 is a production-quality imaging system that begins with a B4 mount lens. The camera adapts to a variety of lenses and automatically corrects for aberration. Three 2/3-inch CMOS sensors, combined with an F1.4 prism, produce full HD images with excellent sensitivity of F12 at 60Hz (extended mode) and a high SNR of 62dB (standard). JVC has paid particular attention to dynamic range and provides an HDR mode for expanded creative expression.
A 4-position optical filter compensates for a variety of lighting conditions. Positions are: 1 (clear), 2 (1/4 ND), 3 (1/16 ND), and 4 (1/64 ND).
MEMORY CARD RECORDING
Dual memory card slots are provided for standard SDHC/SDXC media. Flexible recording options include redundant, relay and backup modes. For contribution quality, the camera supports recording in the ProRes HD422 format to a plug-in SSD module (optional). The GY-HC900 supports both the popular MPEG-2 35/25Mbps format, widely used by television broadcasters, and the more efficient .MOV H.264 format capable of delivering production quality 1080/60p 4:2:2 10-bit recordings. In this mode, recordings can be made at frame rates up to 120fps for ultra-smooth slow motion effects. The camera also records proxy resolution video clips for off-line editing or on-line posting.
ProRes 422 RECORDING TO SSD
Slide in an optional KA-MC100G SSD module, and record in the Apple ProRes 422 HD format. ProRes offers virtually lossless intra-frame compression and speeds up post production. The KA-MC100G accepts standard SATA M.2 SSD memory.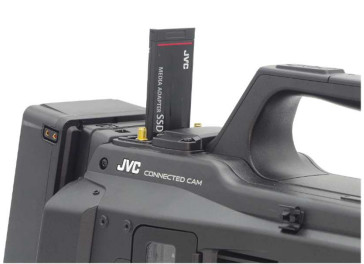 SSD memory can also be used for backup recording. While the Rec trigger is used to REC and STOP recording on one SD card (Slot A), the other SD card (Slot B), or "EXT" (SSD), can act as a continuous backup that overrides the pause function. A 2-terabyte SSD drive will provide over 50 hours of backup capacity when recording in the 70Mbps XHQ (.MOV) format.
THE INDUSTRY'S MOST CONNECTED STUDIO CAMERA
JVC has taken connectivity to the next level with the GY-HC900. The camera incorporates a new processing engine that enables recording and low latency streaming, and simultaneous decoding for return video and IFB. Talent in front of the camera can engage in a 2-way interview with return video and audio while streaming live to air—all of this without any external boxes or backpacks. Depending on the mode, latency can be low for both outgoing and incoming video. Cellular bonding takes place with the optional snap-on SFE-CAM module, or with a Wireless LAN connection to one of our bridge units.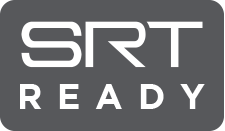 SRT (Secure Reliable Transport) is an open source video transport protocol that enables the delivery of high-quality and secure, low-latency video across the public Internet. SRT optimizes streaming performance across unpredictable networks with secure streams and easy firewall traversal, bringing the best quality live video over the worst networks. It accounts for packet loss, jitter, and fluctuating bandwidth, maintaining the integrity and quality of your video.
SRT provides end-to-end security, resiliency and dynamic endpoint adjustment based on real-time network conditions to deliver the best video quality at all times on any network.
SRT is built-in and can be dynamically adjusted for optimal stream performance and quality. Automatic Repeat Request (ARQ) is included with SRT. End-to-end 128/256 bit AES encryption makes sure your content is protected from contribution to distribution.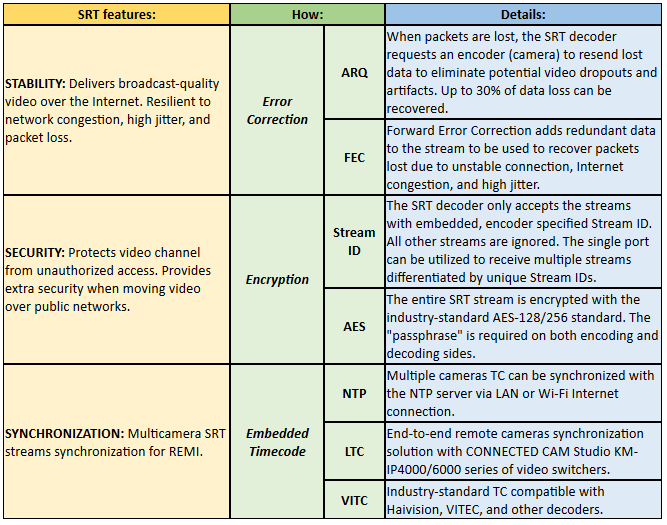 With firmware version v0300, the GY-HC900 streams using the highly efficient HEVC/H.265 compression format which delivers broadcast quality streams at 50% of the normal bitrate, or contribution quality 4:2:2 10-bit streams at higher bitrates. The optional KA-EN200 encoder is required for H.265/HEVC operation.

BROADCAST GRAPHIC OVERLAYS
With v0300 firmware, the GY-HC900 is now the first 2/3-inch camcorder to offer lower third and full screen broadcast graphic overlays. Graphics can be either added on-the-fly using a smartphone or tablet, or pre-loaded from an SD card. This feature allows the camera operator to generate live streams that include a television station logo, without using a separate character generator.
CLICK HERE FOR EXAMPLE STUDIO CONFIGURATION
WITH ACCESSORY BREAKOUT AND PRICING