Product Details
Sales & Support
Documentation & Visuals
8-NDI and 4-SDI Input Studio Switcher Powered By vMix
WINNER: Sound and Video Contractor "Best Of Show" for InfoComm 2023 and Pro AV Best in Market (BiM) 2023 award!
Quote from Sound and Video Contractor Judge: "The price point is amazing @5k-ish, the ability to have NDI and SDI, I was super impressed."
Quote from AV Technology Judge: "The KM-IP8S4 CONNECTED CAM vMix Studio Switcher is a powerhouse of a system for under $5500 and I think the strength of this system is its support for traditional SDI signals as well as network-based NDI."
Key Features:
Minimum of 8-NDI inputs and 4-SDI Inputs (up to 1080p60)
vMix 4K licensed software
2RU
1x 3G-SDI Output
4x 3G-SDI bi-directional connectors (mini-SDI to SDI cables included)
4x DisplayPort outputs
1x HDMI output
Gigabit Ethernet Network Port
Windows 11 Pro
Includes standard keyboard and mouse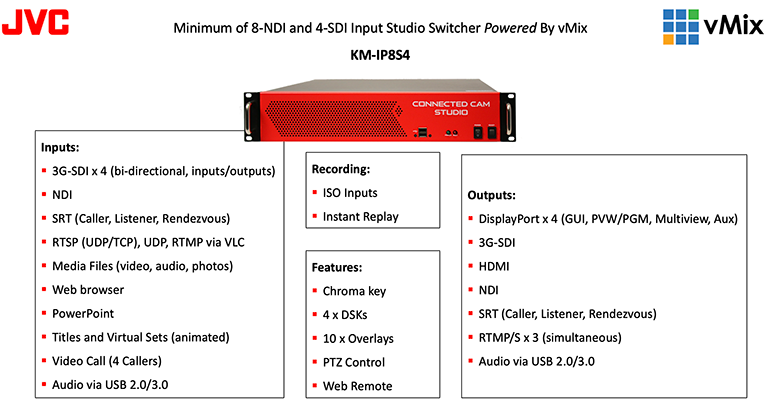 *This system is built according to vMix "Ruby" reference configuration:
3G-SDI inputs: 4
NDI inputs (Full HD): 8-12
Total inputs: 50