Product Details
Sales & Support
Documentation & Visuals
The VZ-DV300REM provides extensive controls including Iris, Zoom, Focus as well as REC start/ stop. In fact, the GY-DV300REM is the only 1/3-inch handheld camcorder which permits remote iris control. All controls are smooth and precise. The included 6 foot cable can be extended for even greater flexibility.
Unique Features: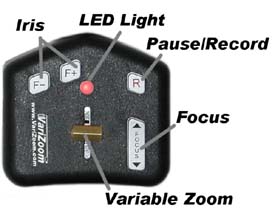 Variable speed Zoom In/Out control
Manual Focus Control
Manual Iris Control
(Not available on conventional units)
VTR start/stop trigger
LED Indicator light for Rec/Pause
The VZ-DV300REM remote lens control is designed for use with the GY-DV300REM camcorder. It easily mounts to a tripod handle and, With its 6 foot cable (included), it allows the camera to be mounted high above on a pole or ladder, while the camera is controlled from below.