The film and video industries have been on a quest to discover whether it is possible to reproduce a realistic three-dimensional space using two-dimensional pictures. Faithful colour reproduction and higher picture quality have been high on the agenda, but so too has research and development for 3D technologies - for a long time. And now finally the curtain is rising on a new era of 3D, quite unlike the fads and special attractions of the past. 3D is making headlines as the next key technology to follow full HD.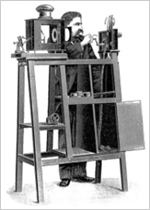 The cinématographe in projection mode:This film camera, invented by the Lumière brothers, also served as a projector
Stereoscopic pictures have a long history, dating back to the 19th century. In 1858, the Frenchman Joseph d'Almeida is credited with creating the world's first stereoscopic still pictures, projecting anaglyph slides using red and green filters.
In 1895 the technology for moving pictures was invented by the Lumière brothers, also in France, but it was not until 1922 that the first-ever stereoscopic (anaglyph) film - The Power of Love - was shown at the Ambassador Hotel Theater in Los Angeles.
The first wave of the 3D film fad occurred between 1952 and 1954. Behind it was the desire to win back cinema audiences that had been steadily dwindling as televisions found their way into people's homes.
1981~1984 marked the second wave for 3D, this time triggered by the fact that 3D content started to be carried on cable TV. Once again filmmakers were encouraged to create 3D films.

An exclusive 3D experience to give cinemas an edge
Home theatre technology has evolved rapidly thanks to the availability of high-capacity optical discs and large-screen TVs, and this has resulted in a growing demand for something that will make the cinema more attractive, such as giant screens and sound-surround systems. But in order to make a definitive difference and provide audiences with a unique, immersive experience, attention has turned to 3D. More and more 3D films are being made, and the number of 3D-compatible cinemas is increasing.
Leading directors turning to 3D films
Prompted by a symposium at the ShoWest convention for motion picture professionals and theatre owners in Las Vegas, held in the spring of 2005, famous film directors started turning their attention to 3D.
The shift from 2D to 3D images
With advances in the technologies used for converting 2D images into 3D, the ability to re-experience box office hits of the past in 3D is almost within our grasp.

No fewer than 23 3D films are scheduled to be released by Hollywood in 2009, and one major Hollywood studio has announced that from 2009 onwards it will make all its animated films in 3D. And, not to be left behind, as many as 6,000 of the 38,000 screens in the US are expected to be ready to show 3D films by the end of 2009. It has reached the point where neither the studios nor the theatre owners can afford to ignore the new 3D wave.
At CES 2009, 3D exhibits were conspicuous. Manufacturers at the show were announcing 3D-related technologies and products. Moreover, in the US and Japan they are now broadcasting 3D programmes for TV. So, for both the cinema and TV, there is a lot of activity surrounding 3D.