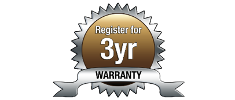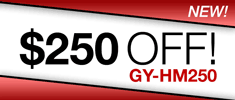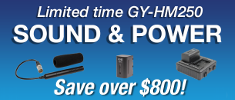 Product Details
Sales & Support
Documentation & Visuals
Model
Description



GY-HM180U
4KCAM COMPACT HANDHELD CAMCORDER w/INTEGRATED 12X LENS
Economical. Versatile. The GY-HM180U records 4:2:2 UHD directly to inexpensive solid state memory cards! Complete with XLR audio and 3G-SDI. There's no better value anywhere.


GY-HM250SP
4KCAM SPORTS PRODUCTION STREAMING CAMCORDER
Shoot, record and stream live sporting events in HD! This unique camcorder has the professional features and performance you'd expect plus it creates real time score overlays.