Product Details
Sales & Support
Documentation & Visuals
JVC picture engine
Real Bit Drive with 12-bit (x RGB = 36-bit) processing
Intelligent Color Management: JVC picture engine analyses color distribution in each frame of the input signal in real time to perform precise processing. This emulates the way people naturally increase visual sensitivity for colors in an object that captures their attention, resulting in images with more realistic colors and textures as well as added dimensional quality.
High-speed Intelligent Gamma Adjustment: Thanks to the enhancement of CPU performance dedicated to picture adjustment, the fine-tuning of contrast in light and dark areas of a scene has now been significantly improved. Images that were once difficult to recreate can now be seen clearly with full contrast and ample presence.
Intelligent Clear 3D Noise Reduction: Detects picture noise in real-time to reduce noise without motion blur.
Compatible with wider color spaces including Adobe RGB color space
The algorithm featured on the JVC picture engine can reproduce colors from all sources without any gap in the color phase even if color space of the panel and input signal differs. Whether the source is high-definition video or a digital SLR photograph taken with variable color spaces such as sRGB or Adobe RGB, the user can select from one of five available color spaces: Wide (the LCD monitor's widest color space), Normal (HDTV standards), x.v.color (xvYCC extended gamut), sRGB (same as HDTV), and Adobe RGB to realize color reproduction faithful to the source.
100Hz/120Hz Clear Motion Drive III The high-speed driver effectively reduces typical motion blur in LCD monitors by utilizing a 3D real-time noise reduction system that eliminates noise while maintaining the realism and sharpness of the original picture for both 50Hz (PAL) and 60Hz (NTSC) signals.
A variety of professional-specification preset modes are available for applications such as digital signage and digital SLR camera use
Professional-specification preset modes for applications such as digital signage, surveillance (in CCTV HD and SD modes), and general medical reference* use are available. These different preset modes such as color temperature for broadcasting studio retakes and a gamma curve setting based on the DICOM gray scale display function (GSDF) for general medical reference help to optimize performance, making the GD-32X1 an excellent choice for diverse requirements.
Signage
Preset mode for displaying sharp, clear text and bright images with optimised resolution for electronic signage.
CCTV HD/CCTV SD
Preset modes for displaying vivid images optimised for surveillance use. CCTV SD mode is the preset mode that can display low-resolution analogue videos with extra sharpness.
Option
Preset mode that ensures the clear display of optimised general-reference images for medical applications* such as the viewing of X-rays.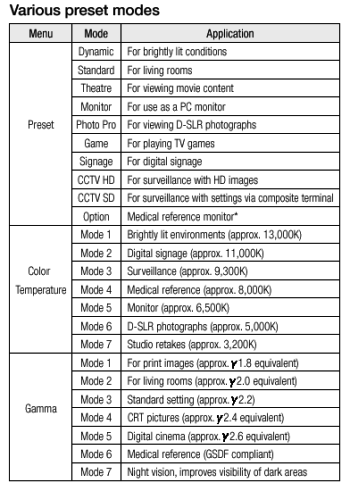 Ideal for medical applications
As the monitor offers full HD resolution, it is ideal for general medical reference applications* such as viewing videos, photographs of X-rays, etc.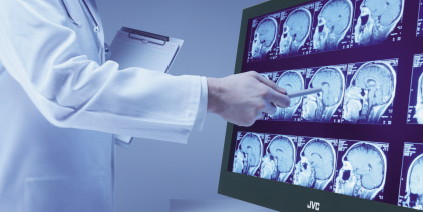 Thin LED edge-lighting system
To realize the GD-32X1's unique dimensions, JVC designed an original LED edge-lighting system that enables the monitor to deliver uniform levels of brightness and light efficiency, as well as superb rigidity even with its super-thin and lightweight form.
*The monitor can be used for general medical reference applications, however not for diagnosis. Medical safety standards are not acquired.

Boasting advanced technologies and a super-thin, lightweight design, the GD-32X1 is an innovative monitor that can be flexibly and conveniently positioned anywhere. Whether mounted on a wall or even hung from the ceiling, this new monitor is ideal for use in locations such as buildings for the general public, stores and shops, businesses, and academic institutions, as well as for surveillance and medical reference applications. What's more, the use of fewer material resources in manufacture helps to minimize impact on the environment.