The Xpol® circular polarizing system employs a 3D optical filter (an Xpol® filter consisting of micro-polarizers arranged in a precise array) applied to the surface of a flat-panel display, which is viewed using simple polarizing glasses. This provides a flicker-free, full-colour display. Because of its advantages, especially its cost-performance benefits - inexpensive polarizing glasses, no need for electronic circuitry, etc. - JVC has chosen the Xpol® circular polarizing system for its 3D LCD monitors.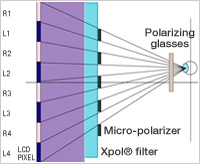 The Xpol® circular polarizing system generates a horizontally interleaved picture by assigning pixels for left and right eyes to alternate lines. This means that full HD (1920x1080) content is reproduced as 1920x540 pixels for the left eye and 1920x540 pixels for the right eye. Thus horizontal resolution is maintained, and viewers can enjoy a very clear 3D picture with excellent colour quality.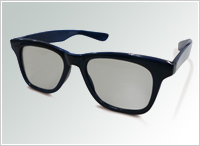 There are two types of polarizing glasses used for watching 3D content: these employ either linear or circular polarization. With linear polarizing glasses, the angle of the glasses is critical: tilting the head will result in a loss of the stereoscopic effect. However, with the circular polarizing glasses used for the Xpol® system, the stereoscopic effect is maintained even when the head is tilted slightly to left or right. Thus it is possible to create a natural viewing environment in which several people can watch the same 3D display.

The Xpol® circular polarizing system offers several advantages. With a high-definition picture seen by both eyes, it not only offers superb colour characteristics but also reduces eye fatigue. Moreover, it is simple to use and it does not interfere with the display of regular 2D content.
* Xpol® is a registered trademark of Arisawa Manufacturing.