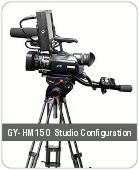 The GY-HM150U is JVC's latest and most advanced compact handheld camcorder. Based on the solid ergonomic design of the highly popular GY-HM100--currently in use by thousands of photojournalists at major television stations and networks around the world--we've upgraded the camera's features and performance without changing the attributes that made its predecessor so successful. A new encoder delivers not only improved HD recordings, but adds support for standard definition (SD). Manual controls are now more intuitive than ever with an iris dial next to the lens, and a total of 6 user assignable buttons. And shooters will love its dual card recording capability that creates an instant back-up copy! The GY-HM150 offers the world's fastest workflow delivering files that can be instantly edited in all professional level editing systems—all while producing recordings on par with broadcast cameras. The GY-HM150 is highly recommended for demanding news and production assignments.

Professional format recording with selectable data rates up to 35Mbps

Native .MOV format
Fastest HD shoot to edit workflow. Edit immediately on Final Cut Pro™ or Premiere™ without conversion or transcoding
Native .MP4(XDCAM-EX™) format
.AVI format (DV standard definition) format —New!
Compatible with most professional non-linear editing systems
High-end encoder and digital signal processor—Upgraded!

Records to dual SDHC (Class 6 or 10) and SDXC memory cards —Upgraded
Records simultaneously to two cards, or in relay mode for uninterrupted recording —New!
Back-up recording mode records continuously to one card as individual clips are created on the other card with the record trigger—New!
Full HD recording (selectable)

1920 x 1080 (1080p24/25/30, 1080i)
1280 x 720P (p60/50/30/25/24)

SD recording and playback (.MOV or .AVI files) —New!
10x Fujinon HD lens with manual or auto modes
Interval (time lapse) recording —New!
Pre rec (retro) recording for no missed shots —New!
Clip Cutter for trimming existing clips —New!
Extensive image customization modes (gamma, matrix, knee, detail, etc.) with 6 user assignable buttons —Upgraded
Upgraded LCD panel and electronic viewfinder (EVF) —Upgraded
Uncompressed LPCM audio (2ch) recording

Manual level controls with audio meter
XLR inputs with phantom power

Wired and wireless remote control —New!
Click here to compare the differences between JVC ProHD Camcorders

XDCAM EX™ is a trademark of Sony Corporation