Product Details
Sales & Support
Documentation & Visuals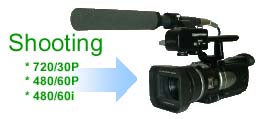 JVC has developed a complete system that answers that need, beginning with the JY-HD10U camcorder. This single-CCD marvel lets you record high definition native 16:9 content in the 1280 x 720P mode at 30 frames per second. Your recordings are stored on inexpensive, widely available Mini-DV cassettes, capable of up to 63 minutes recording time per cassette. You can play them back directly from the JY-HD10U camcorder onto an HDTV monitor or projector with component inputs, or dub them to JVC D-VHS machines using the IEEE-1394 interface. The results are absolutely startling--like nothing you've ever seen from a camcorder in this price range!
The JY-HD10U can also be used to make beautiful 16:9 progressive scan recordings in the 480/60P mode--ideal for viewing on today's high quality DVD players. And, of course, you are still able to make standard 480i recordings in the Mini-DV format compatible with a wide range of systems.
How is this all possible?
JVC has been a pioneer in data compression and is one of the original licensors of MPEG compression technology. With the development of a new high definition codec (encoder, decoder) JVC has been able to pack HD recording and playback into this tiny camcorder and use Mini-DV digital cassettes for data storage. JVC uses a newly developed 1/3-inch progressive scan CCD with 1.18 million pixels to create images in the 1280 x 720 format. Using the DV platform as a data storage medium, JVC has enabled bitstream recording of high definition MPEG-2 data, while allowing the camera to perform as a standard Mini-DV camcorder by simply flipping a switch. JVC uses the the industry's open-standard MPEG-2 data format--the same that's used by broadcasters to transmit HD to millions of American homes.
Adapted for professional users
The JY-HD10U, while similar to its consumer counterpart, has been beefed up for professional users. We've added the most requested "pro" feature, dual XLR microphone inputs and a holder for professional shotgun microphones. There's also a sturdy die-cast handle for stable shooting and carrying. The LCD viewfinder has 180,000 pixels for crisper, clearer images. Color bars and audio metering are also standard on the professional version.
IEEE-1394 connectivity
The industry compatible iLink (IEEE-1394) connector allows you to transfer your high definition recordings to JVC's D-VHS format for distribution. You can also connect a PC for simple editing of the MPEG-2 recordings.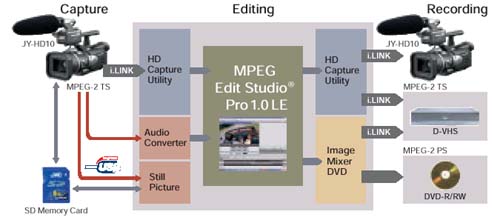 JVC has made an enormous leap into the future with the world's first affordable HDTV pro-camcorder. Previously, HDTV camcorders cost well over $50,000, putting them out of the price range of most videographers. With an explosion in HDTV monitors and rear-projectors, there has been a corresponding need for a cost effective way to create HD content, and distribute it to the new generation of displays.