Product Details
Sales & Support
Documentation & Visuals
Fast, high-quality DVD authoring with customized templates — the BD-X200 makes everything from authoring to menu manipulation quick and easy.
Producing a commercial-quality DVD is a lot different from making a personal DVD. You need much more than just high-quality DVD recording capability. You need powerful authoring, encoding, layout and design capabilities. You need easy operation with customized menus, layering and thumbnails. You'll get all that and more with the BD-X200. Specifically designed to meet the requirements of professional DVD creators and content distributors, the BD-X200 is ideal for creating DVDs for in-store displays, film shoot dailies and virtually instantaneous recordings of live events such as concerts and church services.

Create a unique look and feel for your material with the template-based main menu. Two-layer menus (one layer for the title and another for chapters) with thumbnails is possible. For customized DVD production, up to 99 titles are possible with up to 99 chapters per title.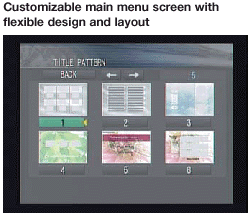 A DV emulation function allows direct control from your NLE system through the IEEE 1394 (DV) interface. You can download digital video and audio as well as edit data from the NLE system. As the BD-X200 is detected as a DV deck by the NLE system, it can be controlled with the DV emulation function.
Multi-tape editing
Editing interruptions or pauses to switch tapes are not a problem. You can easily collect recordings from multiple tapes on a single DVD even when editing is interrupted or the tape is paused or changed.
RS-422A interface to control a slave VCR
You can create or edit a DVD copy using an analog VCR. The VCR can be controlled remotely and images can be captured from the VCR.
Convenient audio functions
You can switch or adjust the audio input level as required. Audio monitoring is possible via headphones.

Real-time direct DVD recording without rendering
DVDs can be directly recorded for fast, high-quality DVD disc creation. For example, authoring, editing and burning of a 60-minute program can be done in only 60 minutes and finishing takes just another 15 minutes. That means you can have a finished commercial-quality product in just 75 minutes. Other DVD creation systems can take up to 3 hours per disc, so you'll enjoy significant time savings.
DVD Duplication
The BD-X200 can be used as a master and connected to a slave via a network connection for dubbing.

Create DVDs with repeat playback capability
With the BD-X200, you can create DVDs with built-in repeat playback capability. This kind of DVD is especially useful as a point-of-sales tool.
Notes:
• DVD-R is compatible with the video mode of DVD-R Standard 2.0 or higher and DVD-RW is compatible with the video mode recording of DVD-RW Ver. 1.1 or higher (recording is not possible in the DVD-RW VR mode).
• DVD-R/DVD-RW discs finalized on this unit can be played back on most DVD-R/DVD-RW-compatible DVD players.However, some DVD-R/DVD-RW-compatible DVD players may not play DVD-R/DVD-RW discs recorded on this unit.
• The screen is a sample screen produced by a prototype unit.
• Dolby and the double-D symbol are trademarks of Dolby Laboratories Licensing Corporation.
• The BD-X200 does not support the playback of commercial DVD-video discs.