Product Details
Sales & Support
Documentation & Visuals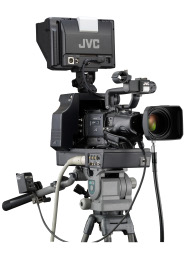 With 720/60p capture and recording capabilities, the GY-HD250 delivers full-resolution HD images, ensuring the high resolution and smooth motion critical to news and sports field production. Equally proficient in the studio, the GY-HD250 can easily be converted for studio use with the optional KA-HD250, a specially designed studio adapter incorporating an industry-standard 26-pin multi-core connection. Other valuable features of this versatile camcorder include genlock capability, component and HD-SDI output, a wide selection of HD lenses, enhanced cinema gamma, external time code synchronization and professional connectors on a rugged die cast chassis.
From live field recording to high-end studio production, the GY-HD250 is the cost-effective solution to today's demand for high-quality imaging. Quick links:

Progressive Scanning

Progressive scanning is the preferred system for high end HDTV cameras, since each frame is captured completely, without interlacing. The GY-HD250 uses a full-frame progressive scanning system, using native progressive 1/3-inch CCDs. Images are recorded in the progressive format enabling individual frames of information to be extracted for special effects including spectacular slow motion, imaga analysis, and printing to film or paper. Stills and prints captured from HD progressive video avoid the distortion typically resulting from the combining of two different frames of interlaced video. If an interlace signal is required, it is a simple and lossless process to convert the progressive image to interlaced. And since today's flat panel television displays and fixed matrix projectors, such as D-ILA, DLP and LCD, are all native progressive scanning systems, GY-HD250U recordings can be displayed without imperfection, because they do not need to pass through the degenerative process of de-interlacing prior to being displayed.


60p capture and recording

With the introduction of the GY-HD250U, ProHD now has the capability of recording a full 60 frames of HDTV per second. 60p provides smooth motion, with each frame carrying the full HD resolution. This makes the camera ideal for live events, news, sports and other applications where the 'live-look' is preferred over the film-look images achieved with lower frame rates. Additionally cinematographers may use the 60p mode as a means of delivering an 'overcranked' slow motion effect when the 60p material is played back at 24p or 30p.


Uncompressed HDTV live signal output

In addition to providing superior quality HD recording in the HDV format, the GY-HD250 can capture and output both digital and analog HD signals at 60 frames per second. Ideal for live broadcasting, the uncompressed full-resolution signal (either 720p or converted 1080/60i) can be output via the built-in HD-SDI and component analog terminals, providing an ideal feed to a video server, HD switcher or microwave link.


Real 24p

The GY-HD250U is also able to capture and record at the film frame rate of 24fps. It offers extensive user configurable settings such as exposure, gamma and detail. In addition, native 24p editing is now possible in HD at a low bit rate of 19Mbps, enabling the creation of EDLs (Edit Decision Lists) of 24 frame material with compatible Non-Linear Editing software. For the ultimate expression on the big screen, 24 frame progressive recordings can be transferred easily to 16 mm or 35 mm film. 24p Progressive Full HD images are ideal for cinematographic applications. And, when real 24p HD video is down-converted to SD, the result is truly film-like DVDs. The camcorder itself, with its video lens removed and replaced by a film lens converter system, such as the Mini 35 from P & S Technik, effectively becomes a digital film camera.


Other frame rates

In addition to 60p and 24p, the GY-HD250U can record HD images at 25p, 30p, 50p, and SD images at 480i (DV mode.)


Compact shoulder style for stability, comfort and mobility

The GY-HD250U is designed to comfortably rest on your shoulder, with controls and switches laid out in the same manner as on higher end production cameras. Expanding on the compact shoulder form factor popularized with the GY-HD100U, the GY-HD250U has an extended connector panel and professional battery mount.


Interchangeable HD lenses

The GY-HD250 features a standard professional 1/3" bayonet lens mount, giving you the opportunity to use a variety of other professional HD lenses. In addition to the standard detachable 16x servo Fujinon lens, a wide range of options are available, including a 13x (3.5 mm) wide zoom lens, 18x Fujinon zoom lens, 20x Canon zoom lens, a wide angle converter for the standard 16x lens, and adapters that allow ½-in and 2/3" bayonet mount lenses to be used. And when you add the HZ-CA13U film lens mount adapter to the 1/3" bayonet mount, you can even mount 16mm film camera lenses on the GY-HD250, greatly expanding your production lens options.


Detachable 230,000-pixel LCD color viewfinder

The viewfinder's eyepiece can be moved backwards and forwards and can also be adjusted laterally for left or right eye shooting, enabling it to fit the operator comfortably. JVC's own proprietary and patented Focus Assist control ensures fast and easy focusing. To make focusing even easier, a black and white mode is available. Stronger contrast and reduced color noise make visualization and composition easier in this mode and put less strain on your eyes so you can shoot for longer periods. You can also keep using the viewfinder even when using the LCD display. When not required, the viewfinder may be detached.


3.5" LCD display panel*

This 250,000-pixel 3.5" color TFT LCD monitor provides a high-resolution image during shooting and playback. JVC's own developed Focus Assist control ensures fast and easy focusing. A push button selects three display modes:

Video only
Video images with text information overlay including time, status, mode and other data are shown on the screen.
Only information such as time, status, mode, time code, audio levels and other data is shown on the screen. When the LCD display panel is in this mode, the viewfinder can also be used.


Patented "FOCUS ASSIST" function

A JVC-patented feature, Focus Assist, turns focusing into an easy, fast and accurate process. When Focus Assist is activated, the picture in the viewfinder becomes monochrome and all objects which are in focus take on a color fringe. In addition to the factory default Middle position, Low and High positions are available. In the Low position, you can limit the area in focus for more precise focusing. This is particularly helpful when using the technique of pulling focus. Focus Assist works equally in the 0.44" viewfinder and the 3.5" LCD panel. There are two Focus Assist buttons, one for each of handheld and shoulder operation.


DTE™ Direct to Edit recording to DR-HD100 hard disk

The DR-HD100 has been designed specifically to interface with the GY-HD250 camcorder via IEEE 1394. Interlocked to the camcorder's record trigger, HD and SD images can be recorded together with audio and time code. It can be powered by either a built-in rechargeable or external battery. The DR-HD100 is supplied with its own cradle, from which it can be detached easily. Optional brackets are available for mounting the HDD recorder to the rear of the camcorder.


Compatible with popular NLE systems for HDV and DV editing

DTE™ technology permits the DR-HD100 recordings in HDV and DV to be set to the NLE's native file format. This means that no time is lost due to the lengthy processes of file transfer and conversion. The DR-HD100 can be used with most popular editing applications from Adobe, Apple, Avid, Canopus and many more*. As new application support is released, the DR-HD100 can be updated in the field with new system software easily by connecting the disk drive to a computer.
*NLE Dependent


Integrated with camcorder and disk drive operation

Attached with the GY-HD250, the DR-HD100's record and record/pause functions are controlled from the camcorder. Time code generated by the camcorder is recorded to files on the DR-HD100, and recorder status and other information can appear in both the viewfinder or LCD display.


Long record times

This hard disk drive option extends uninterrupted record time by many hours. For example, a 40GB FireWire drive can store 3 hours of DV video and 4 hours of HDV video, and 80GB drive does twice these times. It is also possible to daisy chain up to four external drives of different capacities to the DR-HD100, enabling uninterrupted recording of extremely long duration.


LCD display and playback modes

The DR-HD100 features a detailed LCD that displays the system mode, time code and disk space remaining. Video clips can be reviewed in the viewfinder, LCD panel or external monitor, by using DR-HD100's playback mode. Functions include record, play, pause, stop, forward index, back index and multi speed fast forward and rewind.